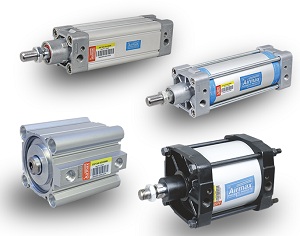 All You Need to Know About Pneumatic Cylinders
As we talk about current situations, all industrialists mostly engineering and manufacturers are rapidly turning to cost saving and automatic equipment. Where they required a few operators to operate many devices at the same time. A Pneumatic Cylinder is one of the devices that helps to operate multiple equipments at the same time. These cylinders used to generate linear motion and force from the compressed air. The cylinders are operated by compressed air so generally, they are also known as Air Cylinders. It's evident that the type of cylinder you require will vary depending on applications and industry.
Types of Pneumatic Cylinders
As per their way of working and design, cylinders are distributed under major three categories:
Single acting pneumatic air cylinder

Double acting pneumatic air cylinder

Telescoping pneumatic air cylinder
a) Single Acting Pneumatic Air Cylinder
This cylinder requires work only at one end to push the piston in comparison to the double acting cylinder. There is a spring on the other end to return the piston. These single acting cylinders are mainly used in internal engines.
b) Double Acting Pneumatic Air Cylinder
This cylinder requires work at both ends of the piston, on the first end for outstroke and the other end for instroke. Due to double acting cylinders generating force from both ends of the piston, double acting cylinders are used for external engines like steam engines.
c) Telescoping Cylinder
This type of pneumatic cylinder has a telescopic piston rod design. These pneumatic cylinders are also available in single and double acting types. These cylinders are used to fulfill minimal pressure requirements.
Pneumatic Cylinder Selection
The pneumatic cylinder selection depends on the desired application, media, shape, and size to perform the role on the service line. There are a few recommendations for selecting a pneumatic cylinder.
Output Force
The force created by the air cylinder has been noticed during the selection of a cylinder. It depended on bore size, and air pressure. Generally, a rule of thumb is used here: The generated force should be twice as much as the load.
Cylinder Speed
An important factor is the cylinder's stroke speed. There are a few factors that affect the speed and those are port size, inlet and exhaust flow through valves, and tube size. So check these things for cylinder speed.
Air Consumption
Pneumatic Cylinder starts air consumption in two scenarios: first is the volume of air that is required to generate force to the piston. And the second is the sloppy air volume like moisturized air or air with solid particles can damage the ports, valves, tubings, and end cover cavities. You should have to check that a cylinder is able to supply air even in the worst condition? If the pneumatic cylinder was able to meet all criteria, then you could be sure of the cylinder's performance at your OEM applications.
Conclusion
Currently, pneumatic air cylinders are widely used in OEM applications and also used in highly hazardous environments. These pneumatic cylinders have performed beyond the average of any other industrial device.