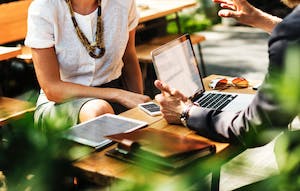 3 Simple Ways to Optimise Your Landing Pages
The landing pages on your site are one of the most critical tools for lead generation and conversion. It's one thing to generate a lot of traffic to your website, but then it's also incredibly important to focus on what you do with that traffic. To reach your business goals and achieve a high conversion rate you need a plan for what you want users to experience once they have landed on your page.
Having effective SEO strategies is one thing, but if you're not sure what to do with your traffic once it is on your website then all of the work put into SEO is almost entirely useless. An essential but often overlooked part of a successful SEO campaign is learning about landing page strategy. Landing page optimisation is the right strategy to take your business forward if you find yourself in the position where you are getting a fair bit of traffic to your website but no conversions.
We've put together a few useful tips that we've noted have helped in the process of creating effective landing pages for your website.
Have a Clear Call to Action
You'd be surprised by how many businesses rank well in search engine results but haven't put the work in to create a clear plan for the user. It is critical for your business and website to have a funnel in place with a clear call to action for when a user lands on your webpage.
Some good examples of this might be having a clear purchase or add to cart button for e-commerce businesses, or for service businesses, this could be a really clear obvious "contact us" or "enquire now" click-through link.
Make sure the user journey is clear
The first thing you should be thinking about when creating landing pages is what you would like to achieve with each page. Once you know what each landing page was going to do for the client, you'll be ensuring a clear and simple user journey that will lead to more conversions. Essentially landing pages are a stepping stone for customers on their journey to a conversion. Working with a web developer or digital marketing company can help you to create a user journey that will make it easier to drive conversions. If you're not sure where to start, look at your competitors and those who are doing well in your niche - there's a lot of inspiration that can be gained.
Easily accessible contact information
It's important to build trust with your website visitors and have your email phone number and address easily accessible on your website.
As a general rule of thumb rest of your information to contact you is usually visible from each landing page whether it's in the footer header or another part of the page. The simpler it is to get your contact information the higher your conversion rate will probably be with users.


Conclusion
There will be a lot of trial and error when creating your landing pages that work for your business. You should probably test a wide variety of many pages to measure the effectiveness and conversion rates, to see what works for your business as what works for your competitors may not work for you.
The key element to having successful landing pages that lead to higher conversion rates is to keep learning and exploring what is effective for your business, and what changes you can make to improve your online presence. Google analytics can provide invaluable insight into how people are interacting with your content, where they are exiting, and provide ideas for how you can improve user retention and drive conversion.