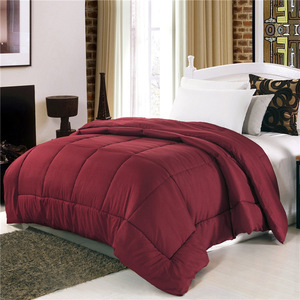 How To Choose A Duvet?
Most humans spend around one-third of their lives asleep and this is the reason one should invest in a bedding that will keep you warm, cosy and warm and comfy to ensure sleepless nights are kept to a minimum. There are many different types of duvets or doonas to choose from but with tog ratings, fillings, and size to think about, make sure you know what you are looking for before you spend any penny.
Here is a brief guide that explains everything you need to know, including what type to get for the kids and how to keep your duvet clean. You can invest in a good set of pillows and a quality mattress too. If you already own a doona then you would know that feather down doonas from Australia are considered as the best of them all. While if you don't know anything about it then read this article till the end.
Tog ratings: While buying a doona, you would want to know how warm it will keep you, especially in winter. For this, you need to know the tog rating of that doona. You must have read it on the packaging that how well the doona can trap the warm air around you and keep you insulated at night.
The tog ratings range from 1 tog which is the coolest to 15 tog which is the warmest. You should choose a tog rating according to seasons. For instance, you would need a 1-7 tog doona in summer and 10 or above during the winters. However, buying multiple doonas doesn't make sense, so buying a doona with 10 togs is preferable to use all year.
Also, remember that the weight of the duvet does not relate to its tog rating. While doonas with down feathers naturally have better thermal properties than synthetic versions.
Doona fillings: Basically there are two types of doona fillings: natural and synthetic. If you suffer from allergies then opt for a synthetic duvet while natural duvets are light in weight.
Natural fillings: This type of doonas are not only soft but also allows your skin to breathe more easily compared to synthetic materials. Such doonas are filled with feathers or down.
Down-filled doona: Down-filled doonas are usually filled from fluffy feathers from the breast area of the bird. This type of doona is light in weight and offers the best level of warmth.
Feather-filled doona: Feather-filled doonas are less expensive but are heavier than down ones as the feathers are larger, stronger, and more robust.
Feather and down-filled doona: this type of doona is a mix of both tough feathers and warm down. Here, the feathers and down are used to give the ideal level of weight and warmth.
Silk: Silk doonas are a great option for the people who suffer from allergies but still want a natural filling. Silk doonas are lightweight, durable, hypoallergenic, and regulates body temperature by trapping warm air during cold weather and draws away heat during hot weather.
Wool: Wool is another natural alternative that you can buy. Alike silk, it is also great at trapping air because of its heavy structure. Wool doonas are also hypoallergenic and will help you to regulate body temperature by wicking away excess heat and moisture when necessary.
Synthetic doonas: Synthetic doonas are a great option for all the people who are allergic to feathers, down, dust mites. Alike the natural ones, the synthetic fibres also wick away sweat and can be washed much more regularly than natural fillings. Synthetic doonas are also categorized as hollowfibre or microfibre.
Hollowfibre: As the name suggests, these doonas are filled with synthetic hollow fibres that can easily trap warmth. The only difference is that hollowfibre doonas are thicker and more wire-like than microfibre. They are durable and are coated with an anti-allergy treatment.
Microfibre: Alike hollow fibres, microfibres are extra fine fibres that are used to create a high-quality doona that feels luxurious as natural down options. Microfibre ones are also lighter than the feather-filled ones.
Conclusion
By reading this article, you will get a brief idea on how to choose a perfect doona for yourself. But if you are still confused about choosing a perfect doona then you can contact Bigbedding.com.au. Apart from that, if you want to get anything related to bedding such as down mattress topper in Australia then surely visit Big Bedding.