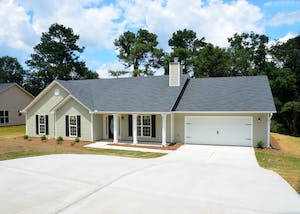 3 Factors That Affect Your Roof Inspection Cycle
Keeping an eye on the condition of your roof isn't easy. It can be hard to get a look in just from a visual assessment and even harder if you don't feel comfortable climbing a ladder to do so. Regular roof inspections by a professional are the key to preventing potential roof damages and keeping yourself out of harms one. But you may be asking – how often should I be having my roof inspected?
This all depends and varies from home to home. But generally speaking, there are a number of factors that you can take into consideration when wondering about your roof care. These factors will determine the regularity in which your roof should be evaluated by a roofing expert. This article will discuss the 3 most important factors that affect your roof inspection cycle.
Weather
Following a large storm, high winds or rainfall, Vertec Roofing recommend having your roof professionally inspected immediately. Extreme weather conditions are one of the major contributors to roofing damage and if not dealt with straight away, there will be consequential roofing problems down the line. According to Vertec Roofing in Wollongong, the most common issues that are uncovered during an inspection include:
Leaks in the attic
Missing, broken, curling shingles
Holes in the roof
Broken Flashings
Broken Ridge Vents
Age of Roof
The frequency of roofing inspections will also depend heavily on how old the house is and when the roof was built. Older roofs tend to need more roofing care, however, even the newest roofing structures need maintenance and inspecting. A roof that is more than 10 years old will benefit greatly from seasonal interior and exterior inspections. A newer roof will benefit from inspections to put in place some preventative measures.
Overhanging Foliage
Trees around the house provide privacy and an attractive natural feel to the home. However, the branches and leaves of trees will contribute majorly to damage if positioned incorrectly. Roofing inspections will also depend on the climate in which the house is, and how many trees are in danger of falling or dropping foliage in the immediate vicinity of the roof. Tree branches are also notorious for leaving big holes in roofs in extreme weather conditions, as well as breaking and bending the shingles off a roof.
In perfect weather conditions with no overhanging trees, a new house will only need an inspection every few years. On the contrary, if there is a lot of tree coverage and the housing structure isn't brand new, then roof inspections for overhanging foliage should be at least yearly.
Article Directory /



Arts, Business, Computers, Finance, Games, Health, Home, Internet, News, Other, Reference, Shopping, Society, Sports