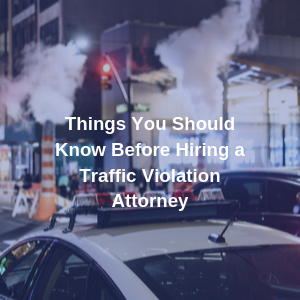 Things You Should Know Before Hiring a Traffic Violation Attorney
Hiring a traffic violation counsel is no different from hiring a lawyer for any other legal issue. An average Joe may not know the ins and outs of traffic rules and regulations. So, they are likely to look for the services of a qualified attorney to either lower a fine or dismiss the case when they get a ticket for traffic violations.
If you have received a ticket due to a traffic violation and are looking for a lawyer, you will need to do your homework to spot the best traffic violation attorneys in your area. Knowing how to go about deciding on a traffic violation lawyer to represent your case in the best way can help you make an informed decision.
Here is a handy checklist of things you should deliberate upon before finalizing your decision on the matter.
When to reach out to a lawyer for help with your traffic ticket
Most people start getting a bit panicky at the thought of getting a ticket for a traffic violation. There is no need to feel nervous in all cases, though. Your best bet to decide whether you should seek legal assistance is to take a close look at the ticket which you have received.
If it is for a minor issue, you may be able to manage things on your own. However, reaching out to a lawyer is necessary if your ticket is for a serious traffic violation such as a felony or misdemeanor. An attorney can bail you out of trouble by either minimizing the fine on your ticket or preventing your jail term.
The expenses for hiring a traffic violation lawyer
If you hire a legal practitioner for representing your traffic violation case at the court, you will need to bear the expenses for it. Make certain that it does not exceed your budget. Otherwise, you may find yourself at the receiving end. To prevent this possibility, find out in advance how your attorney would charge you.
Generally, traffic violation attorneys charge their clients either on an hourly basis or depending on the nature of a ticket. In the latter case, your lawyer may charge you a flat amount of money if it does not involve a major violation or extensive paperwork. Further, it also depends on the location wherein you have been handed a ticket. Speak to your lawyer in advance and sort things out before seeking their legal assistance.
Various ways in which traffic violation lawyers help their clients
Legal advice: Lawyers contest a traffic ticket and work for their clients to minimize the penalty on them by assessing their legal position. Their efforts are centered on helping their clients win the case by deliberating upon and exercising all legal options.

Legal representation: When an individual gets a ticket in a faraway or another location and is not able to turn up for a hearing, a lawyer represents him/her at the court.

Dismissal of a ticket: The rationale behind hiring a traffic violation lawyer is to contest a ticket. With sound legal justifications and arguments, a lawyer can assist their clients in dismissing a ticket.

Negotiation: A traffic violation lawyer negotiates with a prosecuting agency to bail their client out of trouble when they get a ticket due to a traffic violation.
A local lawyer will help you deal with a traffic citation more effectively
If you have received a traffic citation, your best option is to get in touch with a local lawyer of the location in which you have received it. Such an attorney would be aware of the local laws. Plus, they would also know the police officer and the judge of the court. As such, they can come up with the best solution.
The practical experience of a lawyer makes all the difference
When you get into legal trouble due to a traffic citation, you need a lawyer who can help you with the case. The practical experience of a legal practitioner in defending traffic violation tickets is more important than their theoretical knowledge for dealing with a traffic citation. Such lawyers generally have an ace up their sleeves which can help them turn the tables in your legal case.
Final thoughts
Hiring a legal counsel for a contesting a traffic citation is akin to taking an examination. The outcome of it would depend on how well they would represent your case in court. Experienced traffic violation attorneys hold the aces to steer their clients through the legal issues involving traffic violations.
If you wish to maximize the possibility of turning a case in your favor by hiring the best lawyer, the aforementioned list of the essentials will help you sail through. For best results, consider including all the aforementioned aspects in your scheme of things.