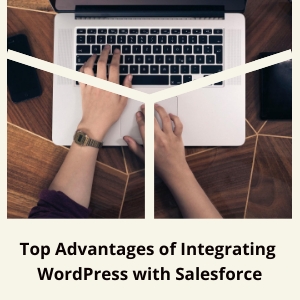 Top Advantages of Integrating WordPress with Salesforce
We are already aware of the fact that WordPress is the world's most commonly used Content Management System (CSM) which people rely on heavily across the globe. Talking about Salesforce, we know it as the world's leading CRM system which is used by the majority of the business enterprises to get the maximum output in the lesser time frame. These both are quite famous among the masses because of various obvious reasons which include their advanced functionalities along with easy accessibility. Software like these has always been a part of major business firms in the initial as well as later phases. No matter what, they have delivered their best in most cases so that their customers do not have to regret their decision later. Now, this blog focuses on the mutual relationship they share, along with the benefits of their integration.
Why Integrate CRM with WordPress?
Both these platforms carry a lot of importance of their own, both of these play major roles in getting business organizations stable in the longer term. If we can imagine the unique capabilities that they carry as a single entity, why cannot we imagine the beneficiaries which they would be providing the people with upon their integration? Most of the business websites have already their own WordPress account to update stuff directly online. Integrating their website with the right CRM can be a turner for them. It would not only be helpful in collecting and storing the data effectively but rather it would help you to explore new and much better ways to connect with our visitors and provide them with an exceptional experience which they would love to appreciate. There are huge benefits that one can get on integrating WordPress with the right CRM system. Continue reading to know more.
Benefits of the Integration of WordPress and CRM
So, the following mentioned are a few major advantages that can easily avail of integrating their WordPress with the right CRM platform. Have a look at them as follows:
1. Content Management Made Easy
Combining the capabilities of both these platforms may provide you with a better experience for content management. You do not need to look for the data in a disorganized manner, rather it would now become much easier for you than before. You can also sync fields of these two for smoother functioning.
2. Tracking Users' Activity
Now, you can easily track the time your visitors often spend on your website and know about their needs and interests in particular. This will help you understanding them in a much better way so that you can serve them with much efficiency later. Your users' activity is going to define the potential your business carries within itself.
3. Custom Object Integration
Both these platforms, whether it be CRM system or WordPress, have their own custom objects which can be integrated well along quite easily. This will reduce your workload and help you explore new things which can bring good for your respective business firm. It is a really helpful step, talking in the context of a business firm.
4. Interact with Customers in a Personalized Way
So, the web forms which your prospects may fill on your website can now directly be contacted via your CRM system. It will help you establish a personalized communication with them so that they feel important. It is going to help you serve them better in the future, making them your loyal customers too.
5. Experience New features
There would be so many things which one would be missing out on using these two software as different entities. But on their integration, you would be able to experience a whole new range of explicable features which may give a new turn to your business' future leading it to great heights with each day passing by.
Ending Note
In a nutshell, it can also be concluded that if one wishes to experience an upgraded version of advantages that they can get on integrating the CRM system with WordPress, they must go for it as soon as possible. This type of integration is really helpful for almost all major business enterprises that wish to achieve success in the future in a spontaneous manner. Generally, not all people are equipped with knowledge regarding these things, but one needs to take constant guidance and consulting when it comes to making the right decision.
If you are among the ones who are in need of constant guidance when it comes to making such crucial decisions, you must not hesitate to hire the right Salesforce Consulting services for your business. They can always help you decide on the right things and help you reach greater heights in the near future ensuring sustainable growth for you and your employees.
Source URL - https://www.forcetalks.com/blog/top-advantages-of-integrating-wordpress-with-salesforce/