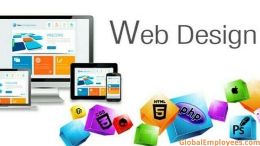 Top Web Design Trends in 2020
With time, Web design trends are continually transforming. The technical possibilities are endless in 2020. Designers are playing and experimenting with extremes, reinventing previous styles, and also experimenting with new techniques. There are also a few popular already existing styles that are not ready to leave the design market any time sooner. Such examples include minimalism and colorful flat illustrations.
The top web design trends 2020 seem to include the following mentioned list.
1. The Dark mode: Dark mode web designs look ultra-modern and are very easy on the eyes. It helps colors and design elements to pop up and catch the eyes of the viewers. Often we see that the most visually pleasing web design trends come with practical beginnings. Dark themes work great for OLED screens by saving power and expanding screen lifespans. The best part is that the utility does not prevent them from looking good. Dark backgrounds enhance the visibility of other accent colors for extensively dynamic designs. The dark mode design aesthetic also perfectly suits other prevalent 2020 design trends, including dark and moody color schemes along with glowing neons and even futuristic yet dark cyberpunk and dystopian styles.
2. Imperfections adding personality: Hand-drawn and imperfect design elements evoke emotions and add humanity to your websites. Viewers seem to be tired after watching perfected and impersonal graphics dominating web designs for years. Adding in a pinch of hand-drawn realness gives web designs the heart and soul that appeal to your viewers. Uniquely styled hand-drawn icons, figures, and other elements help display your brand personality and surpass your competitors. This is almost a countermovement to the trend of pixel-perfect flat designs. Your scratchy edges help you show how personal, relatable, and lifelike your brand is.
3. Immersive 3D elements: 3D visuals have always succeeded in delighting people. Technology and the expensive price tag held this trend back, but technology is now in a phase where you can design in 3D without NASA-tier equipment. It opens the gates to more intuitive designers. Hyper-realistic 3D is the best way to offer an immersive experience via your site until VR becomes more cost-effective and mainstream. Interactive 3D designs encourage users to stay on your website for a more extended period. 2020 will surely bring more and more instances of immersive 3D web designs.
4. Layers, floating elements, and soft shadows: This trend aims at creating depth. Soft shadows and floating elements add interest and depth. It gives a 3D Lite look to your website. You can use this effect with text and photos as well, and not just graphics.
Web Designers can take the principles of material design a step further and add some extra jazz to 2D layouts with soft drop shadows and layering elements, offering an extended depth. These effects add a lightweight feel to your site.
5. Combining photography with graphics: When designers overlap original graphics on top of real photographs, it creates a memorable visual, expanding your creativity. This trend is an extremely versatile trend that adds a unique charm to bland product photos on your website. Its more severe attributes communicate complicated or abstract concepts like tech or finance. It is a way in which you can customize your imagery and add more personality to your site. The only thing you need to make sure is to match the style of your illustrations/ graphics with your brand personality.
6. Solid frames of white space: Full bleed layouts have been a consistent trend in web design for quite long. Now, designers are moving towards stable structures and experimenting with different ways to use lots of white space to add more structure to your designs. The clean framing gives stability to your design. In 2020, you will witness full frames of white space, providing a solid structure. Framing allows each element a generous amount of space and creates the perfect foundation for making visuals to stand out. Neatly structured frames around websites create order and prioritize all the different sections of a page.
7. Luminous color schemes: 2020 will show you brave color pairings, strategically employed to make web designs jump off the screen. Web design is becoming bold with the passing years. Designers are using glow-in-the-dark neons and extensively saturated colors in combination with darker, muted shades to add a luminous feel to the designs. Duotone web designs particularly make this trend stand out by reinventing itself to maintain its place at the forefront of the web design world.
Also Read :- Top reasons to use gradients in your web design.