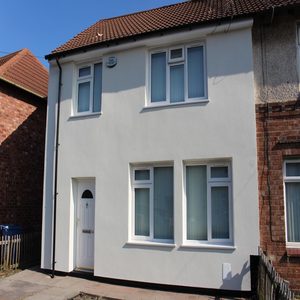 HOW TO RENDER A WALL: A STEP-BY-STEP GUIDE
Whether you attempt to do the work yourself, or hire a contractor, you need to understand the process so that you can plan it around the rest of your project.
1. PREPARING THE WALLS
Before a building is rendered, the walls should be surveyed, with repairs made to structural defects and any movement stabilized, otherwise the render finish is likely to fail. Any new finish is only as good as the wall behind it.
2. EXTERNAL DETAILS
External details such as bargeboards will often have to be removed, along with rainwater and soil pipes and other external details such as alarm boxes. Any vents will need to be extended, and sometimes window sills must be extended too. Metal stop and angle beads are then applied around the window and door openings and corners (or the edges of a terraced property) to provide clean edges for the render. The render system can then be applied.
3. INSULATION
Where external wall insulation is being applied before the render coat, this is usually in the form of rigid boards or slabs. The type of fixing needs to be selected depending on the type of wall — which is either mechanically fixed or glued to the walls.
4. CREATING A FOUNDATION FOR THE RENDER TO FIX TO
A fabric render mesh is then applied over the insulation, bedded into the first base coat layer of render. This mesh acts as a reinforcement against cracking. This is followed by one or two more thin coats of render, usually a primer and a topcoat.
5. BUILDING UP THE RENDER
Different proprietary systems are built up of different layers, using various forms of insulation, including expanded polystyrene (EPS), mineral fibre (Rock Fibre) and phenolic foam (more expensive but superior performance). Different types of render are also used with external wall insulation systems, depending on the application and the desired finish, including polymer cement, silicone and acrylic.
6. RENDER FINISHES
Thin coat render systems are designed to be self-coloured so that they don't need painting. As well as a choice of colours, different finishes are also available, from very smooth to textured. If you have chosen rendering that needs painting, make sure you choose a weatherproof external paint.
7. FINAL FINISHES
Finally, the external rainwater and soil pipes etc. can be reapplied. You can expect the total process to take around three to four weeks.
About This Author

mrfabi
Joined: March 26th, 2020
Articles Posted: 1

Article Directory /



Arts, Business, Computers, Finance, Games, Health, Home, Internet, News, Other, Reference, Shopping, Society, Sports