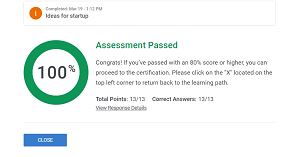 How to take Google Ads Display Certification for Digital Marketers?
Google Ads Display Certification by Skillshop is the test to know if you are qualified enough to work on Google Ads effectively the Display Network.
100% Free and Updated Google Ads Display Certification Exam Questions & Answers.
Display Certification Details:
Questions: 49 questions
Time limit: 75 Mins
Pass rate: 80% or higher to pass
Retake period: If you don't pass the assessment, you can take it after 1 day.
Validity Period: 12 Months
Steps to take Google Ads Display Certification exam
Step 1: Click https://skillshop.exceedlms.com/student/path/18061-google-ads-display-certification and sign in with your Google account.
Step 2: Start your exam.
Step 3: Copy (Ctrl+C) the full question from the Google exam section and then find (Ctrl+F) the question from here. Right Click the question and open the question in a new tab.
Step 4: After completing the exam you will get your result instantly and If you have more than 80% marks. You can give the Google Ads Display Certification.
Some of the questions asked in Google Ads Display Certification are as follow:-
Note:- Question sequence changes according to the account. Please find the question using find.
Google Ads was designed to help businesses achieve online success. To accomplish this, Google Ads was built on three core principles.
What are these principles?
Sales, consideration, and integrity
Growth, reach, and traffic
Relevance, control, and results
Influence, awareness, and promotion
Adam has determined that "Drive action" is the appropriate marketing objective for his new Display campaign.
What are the two relevant options he might use to reach his goal? (Choose two.)
Affinity Audiences
Standard remarketing
Demographic targeting
Custom Intent audiences
Dynamic remarketing
How does Google Display Ads help advertisers meet their marketing objectives and drive results?
By offering the ability to display Bumper ads.
By helping advertisers deliver relevant advertising as people browse the web.
By helping advertisers reach customers searching for specific search terms.
By bundling together all the pillars of a campaign.
Which type of automated bidding strategy is enhanced cost-per-click (ECPC)?
Conversion-focused bidding
Revenue-focused bidding
Awareness-based bidding
Consideration-focused bidding
What's provided by Responsive Display Ads?
Reach, scale, control
Complete creative control and simplicity
Reach, simplicity, automation
Complete creative control and reach
Conclusion:- Google Ads Display Certification is must for Digital Marketer because it enhance their skills and improve their overall campaign results.