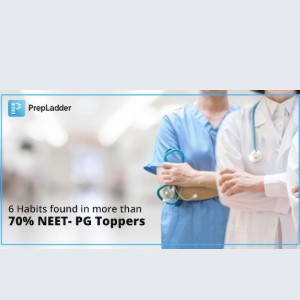 6 Habits found in more than 70% NEET- PG Toppers
After clearing the 12th board exams, then the next level of stress for them is clearing the NEET-PG medical exam to get admission into one of the top medical institutes in India. If you are amongst those that find themselves in confusion and tension on how to go about your NEET-PG exam preparation to achieve your dream rank, then you are in the right place. When it comes to cracking the medical entrance exam it is natural for one to feel nervous as they hear from everywhere that NEET is the most difficult exam to pass. Hearing all this has the potential to make an aspirant's confidence level to drop but know that with hard work all things are possible.
Given below are a few habits that toppers follow which will help you alleviate your stress while preparing for your NEET-PG 20201 exam
1. Being familiar with the entire syllabus:
With the exam fear kicking in, many NEET-PG students start studying without reviewing their entire syllabus, this is very wrong. The first and foremost thing that one must do id to be well aware of the entire syllabus so that you can build your study schedule accordingly. The majority of the toppers follow this habit which enables them to build their study schedule accordingly.

2. Time management:
How are you managing your time? Do you plan what you have to study every day? How much time are you spending on studying each topic? How much time are you spending on attempting NEET-PG mock tests? Make sure to question yourself about time management. This will help you to plan your study and be watchful of the time you're spending. This will help you to study effectively by managing your time and making full use of it. Toppers have one thing in common and that is that they have mastered the skill of time management.
3. Solve previous year Mocks
The easiest way to crack the medical entrance exam is to solve as many previous year papers as you can as it will help you to be aware of the NEET-PG pattern. You can easily find mock tests online and practice them regularly. Doing this will help you to get a better understanding of your exam and will enable you to understand the technique you should follow to attempt the exam on the final day. This will also help build accuracy and time management that are essential for the exam.
4. Don't be anxious:
Being a topper doesn't mean that you won't feel nervous or anxious but toppers have a way of dealing with anxiety the right way. Having anxiety a day before the exam is natural but its during this time that you have to find ways to calm yourself down otherwise it will lower your confidence level. Remind yourself of why you started studying in the first place. Make sure not to let the anxiety take a toll on you by not getting enough sleep. Getting enough sleep before the exam is a must for you to be refreshed on the day of the exam. Relax! Do not worry too much just trust your preparation. Watch this to know how not to forget what you're studying!
5. Taking proper meals:
Preparing for the NEET-PG exam can be a very challenging struggle for an aspirant and they must remain fit both physically and mentally. Lack of nutrition directly affects your body and can hinder you in your exam preparation. Now, the next question that arises is the amount of food one should consume. Consuming too much of anything can have adverse effects on your body. So, consuming too much caffeine in place of keeping yourself awake will increase your stress levels. It would be better to shift to nutritious foods such as nuts, dark chocolates, fruits, and other healthy food items that will boost your brain activity to retain your study. Also, green tea is beneficial for keeping you active by boosting your metabolism and decreasing your stress levels. But, remember to eat in a limited amount and not fall into the trap of overeating.
6. Avoid using social media:
The majority of the toppers have complained of social media is a major distraction during their NEET-PG study. So, many have concluded not to use it or use it only during your break time that too if it does not distract you from your goal. It is very important to remain focused and if you feel that it's distracting you then it's better to stop using it.

Watch this video by PrepLadder a be encouraged. Keep the above-given pointers in mind and reach your goal with PrepLadder.
Author Bio: Mandeep is a Technical content strategist and SEO blogger.