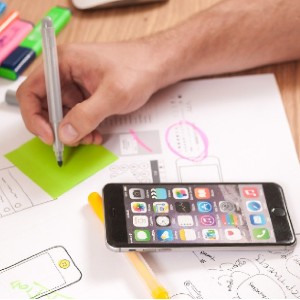 How UI and UX can drive better customer engagement?
The importance of UI and UX in the success of the business has been a topic of research for many years in the past. Various studies were conducted on the same and found exciting findings. Since then, almost all the major businesses around the world began adopting the UI UX design process to its full potential. The results were beyond one's imagination!
Well if you own a business, then making efforts to make the user experience better is mandatory. It makes the end-user experiences excellent and thus retains your valuable client base.
An excellent example is the case of the famous phone manufacturer Nokia. They were leading the market far ahead when compared to their competitors. But since they did not give prime focus on developing the decade-old user experience. Later, they tried to relaunch with the Windows-based UI, but it failed too! Whereas the other competitors like Samsung, Xiaomi, and Apple went miles ahead with creating amazing UI UX interfaces.
A leading UI UX company may be able to help you in customizing your business as per the current trend. They even provide options like UX for startups and UX for enterprise packages so that one can choose the one that suits their atmosphere.
Well, let's keep all that aside. This blog is an attempt to give some essential clarification on how Ui and UX can drive better customer engagement if appropriately executed. I hope it will provide the desired benefits.
Keep reading folks!
Major 5 Return on Investment areas from UI UX
As we have mentioned above, if a business firm is investing in the UI UX design process, five major areas reward you in return. They are discussed below:
1. Increase in the overall revenue of your company by the clients turning into potential customers.
A great UI UX platform makes the customer's experience smooth and simple. It helps to connect emotionally with them. It induces the customers to build and trust and loyalty towards your brand. The customer will definitely choose you when they require the same product or service that your company offers!
This creates a continuous flow of revenue to your business. The founder and CEO of the famous Amazon, Jeff Bezos, have even stated that,
"…I think long-term thinking squares the circle. Proactively delighting customers earns trust, which earns more business from those customers, even in new business arenas. Take a long-term view, and the interests of customers and shareholders align."
2. Enhances Customer Satisfaction
The success of any business depends on treating customers like a King. The motto goes like this, "Customer is the King!". Investing in a UI UX strategy is worth it since it improves customer satisfaction. They love well-designed products, and if a fantastic user experience supports it, then they will get what they want and need not search for the same through the whole website or in any of your competitors' portfolios!
3. Reduces your business investment for support and maintenance costs
A well-executed UI UX design process acts proactively. The issues that are faced by the customers can even be solved through these UI UX platforms and don't need to be supported through other methods like Phone, Email, Online Chat, etc. This helps to save you a lot of money spent on providing support and care.
4. Decreases the Development Waste
The Ui UX design process is executed with proper time and detailing to each minute detail. So the chances of accumulation of development waste are almost NIL. Only the finally designed product is developed, and the company does not need to do much additional research in the development phase or on other studies or research. It saves an amount that you have never expected, which is an added advantage to your business, right?
5. Building precisely the solutions that the customer needs
Implementation of UI UX design process conducts a detailed user research survey. Hence it yields the results like what the customers are expecting or literally what are they expecting? So it gives the UI UX designers on what to develop and how to implement! So the chances of developing the wrong product are very less. So this also leads to saving, both time and money!
When To Invest in UI and UX?
As by now, you have got a clear idea of when to invest in UI UX and why to invest! The answer is simple. It's as soon as possible or right now! This is one of the best mechanisms to attract more customers and hold on to the existing ones for an extended period!
Some of their advantages include driving better customer engagement and responding with proactiveness and intuition! Get a quote from the UI UX company within your reach!
Well, we will conclude this blog with a quote from the famous principal UX consultant and former IBM researcher, Clare-Marie Karat,
"A rule of thumb is for every one dollar invested in User Experience research you save in development and 0 in post-release maintenance."
------------------