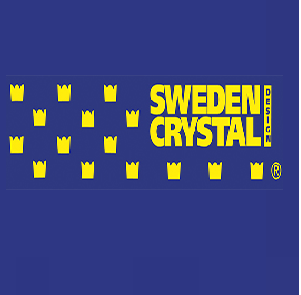 Exquisite Products of Swedish Design Art at Great Prices
Sweden crystal strives to be the foremost artists and designers in Glasriket linked to our glassworks. Our mission is to produce the best art glass in Sweden and the whole world. To succeed this mission we require leaders in these fields - the best artists, designers, and masters of design art.
We have a team who is filled with artistic freedom, design, image requirements and creativity combined with the skills of the very best glassblowers in the Kingdom of Crystal and Sweden. The result is a variety of collections, innovative design and design that is unique for Swedish design art. This is where crystal with experimental desire, effort and craftsmanship and design.
Origin of Sweden Crystal and CSR:
There are numerous products at Sweden Crystal; The origin of production for this product- manufactured in Sweden, is in accordance with existing environmental legislation of Sweden, and according to the Green Book of EU – The Corporate Social Responsibility and Identity. The CSR Concept is a definition of how organisations and companies place social and environmental concerns within their areas of activity.
What does Sweden Crystal Offer?
i. Limited Art Glass Paintings:
You must have a look at our illuminated glass paintings which are manufactured in Imago Technology (Picture in Latin) and was unveiled in 2014. The paintings are made in limited edition and numbered by some of Sweden's most famous artists. This is totally exclusive and unique. Created by our passionate artists, it becomes exclusive glass art glass paintings with nature. These fit perfectly in the home, offices and in hotels.
ii. Paintings:
These paintings are a major product of Swedish design art. These are illuminated behind the glass of the exit signs, the glass is 6mm toughened glass, and the frame is madeof wood and is available in white or black. The frame is first provided to the wall with two screws, then passed the glass plate straight through wood plugs in the wooden frame.
iii. Swedish design art glass, giveaways and bonus gifts in all shapes, colors, designs and sizes from small to large. This type of creativity is a treat for the eyes and the heart. It can be an ideal corporate gift and it can also be the best momentum you can gift to your special friend. We are sure, anyone you gift a product of Swedish design art – they are sure to fall in love!
Concluding Notes:
If you are someone who is passionate about art and values it – Then don't miss visiting us at www.swedencrystal.com – we value those who value art! Sweden crystal is proud to offer you an exclusive range of Swedish design art which is sure to catch the attention of anyone you will be gifting to. You can also decorate a piece of design art at your home, it will add a touch of panache to your home décor. All our products are of top notch quality and are created by best designers in Sweden.
Article Directory /



Arts, Business, Computers, Finance, Games, Health, Home, Internet, News, Other, Reference, Shopping, Society, Sports