Always buy a portable hospital ventilator with the latest features
HT70 plus model is a new addition to the HT70 ventilators. The choice of pressure or flow air has become incredibly easier than ever because of the HT70 on-airway flow sensor with the supported alarms.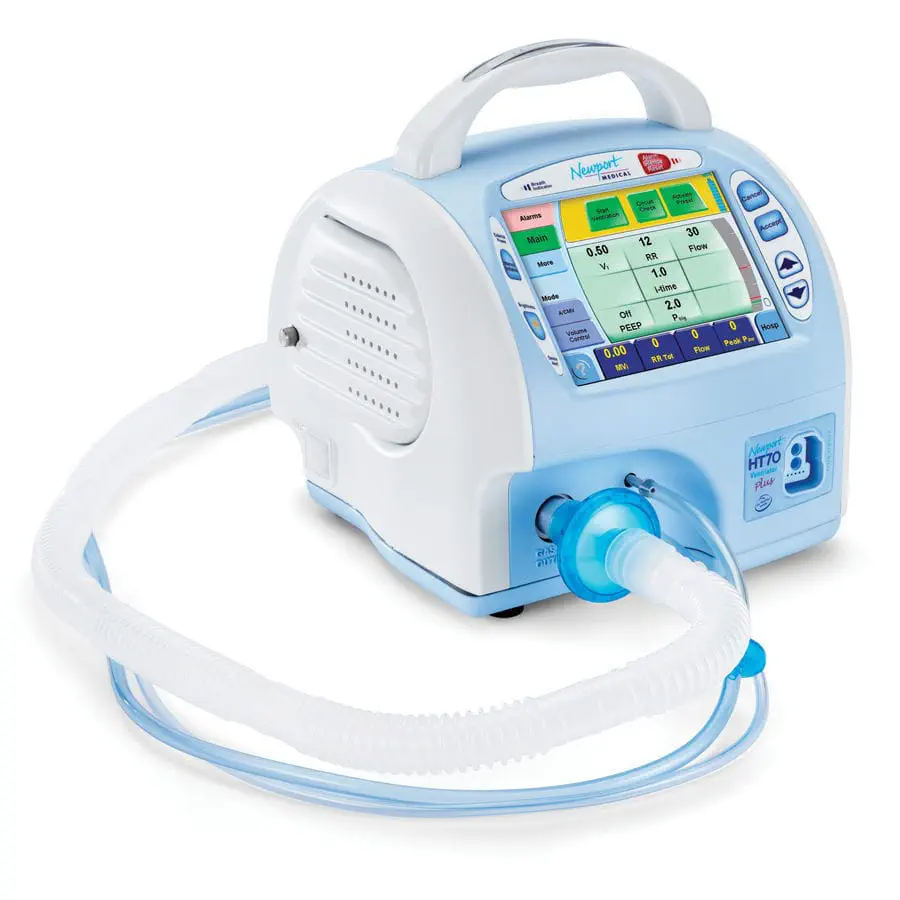 What's more, the manufacturer has added in the internal battery-use-time estimator, an oxygen cylinder measure calculator, and waveform graphics and all these features make it a uniquely different ventilator so that it stands out of crowd. Navigation is as easy as anything with its big color touch screen!
If you are on the lookout for a versatile portable ventilator that you can use for a variety of purposes such as homecare, mobile emergency, ICU, & aeromedical, you should look no further than HT70 Ventilator. Whether you need a reliable ventilator for your infant up to 5 KG weight, or you want it for an adult loved one, it is made for you.
It is built in a variety of modes such as NIV, SPONT, PC, AC, SIMV, & more. The waveforms on volume, flow & pressure make it easy for both the doctors & patients to control ventilation.
What makes HT70 a reliable ventilator?
An average or commonly available ventilator cannot beat HT70 Ventilator in reliability and performance. The weight of the ventilator is just around 7 kg, and what's more amazing is its military-grade plastic.
Besides, you get a 2-year manufacturing warranty, too. You can use this ventilator for emergency, hospital, and home care purposes with a bang! To get the recently added features, you need to buy the plus model rather than the previous one.
The portable feature of HT70 Ventilator
There's no need for any external cylinder & compressed gas since HT70 Ventilator comes with an automatic system with a micro-piston pump. To ensure that it can work for a long duration up to 10 hours, the manufacturer has built it in hot-swappable lithium battery with the addition of multiple power source features like AC plus, and half an hour backup reserve, & more.
You get maximum mobility as a patient or for your patient with its portable accessories such as cruiser bag, cruiser cart, basket, etc.
A look at the newly added features
An easy-to-read big screen
Volume alarm with high expiratory tidal feature
Battery time indicator
On-air flow Sensor
Flow Triggering
Waveform graphics
A 2-year warranty
Micro-piston pump
Multiple power source options
Small & portable
10-hour operational capability on the integrated battery
Conclusion
HT70 Ventilator is one compact package to suit all ventilation needs owing to its exceptional portable, clinical and ease-of-use features. It can be used both for invasive & non-invasive ventilation for serious and normal patients with respiratory tract problems.
If you are looking for one of the latest models in ventilation for the hospital, transport, or home requirements, it can work wonders for you. HT70 does not need you to attach additional compressed gas as it comes with micro-piston technology that makes it stand out from the rest. The best part about recharge-features is that a 10-hour working battery can be recharged just in 3 hours.
Article Directory /



Arts, Business, Computers, Finance, Games, Health, Home, Internet, News, Other, Reference, Shopping, Society, Sports