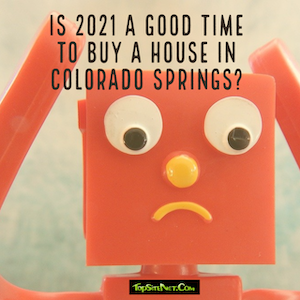 Is 2021 a good time to buy a house in Colorado Springs?
The Colorado Springs Real Estate market has been a "Sellers Market" for the last couple of years. A "Sellers Market" is one where there is less than a 6 months supply of available inventory.
Many of the home buyers we work with are aggressively looking at Colorado Springs homes for sale but find the competition for these homes to be very frustrating. This frustration often leads to the question "should I wait for the market to change"?
This is a difficult question to answer because we never really know where the market is headed. We use data and our experience to try and provide these buyers with the best possible to this difficult question.
Looking at the last 10 years of data shows that our market has been on a steady upswing since the first quartet of 2012.
The months of inventory is the benchmark statistic used to determine the type of market we are in, Buyer, or Seller. Less than six months of inventory means we are in a "Sellers Market" while more than six months of inventory means we are in a Buyers Market. Colorado Springs has been in a Sellers Market since March of 2012.
This extended period of time in a seller's market drive prices up. If you had waited until 2020 for the market to turn back into a "Buyers Market" or even a "Balanced Market" you would have seen a 97.59% increase in the median sales price.
While this is an extreme example, the fact is that in spite of a hand full of minor seasonal exceptions, the Colorado Springs Real Estate market has seen consistent growth over the last nine years. Waiting to buy a home in Colorado Springs would have cost you big.
The answer to the question; Is it a good time to buy a house in Colorado Springs? Depends on your goals, if you are looking for a "deal", it's probably not a good time to buy. If on the other hand, your goal is to get on the path of homeownership in a growing community, then yes it's an ideal time.
Downtown Colorado Springs has seen the addition of the new "U.S. Olympic & Paralympic Museum" along with a number of new bars, restaurants, and apartment buildings. The north end of Colorado Springs has also seen a significant increase in both residential construction as well as commercial development. In-N-Out Burger's new distribution center and restaurant are leading the charge in the Northgate neighborhood while a new Amazon distribution center is creating a lot of activity in the Southeast part of Colorado Springs.
While affordability is always a concern in a growing real estate market, low mortgage rates and a growing economy still make the Colorado Springs area an attractive destination for relocating homebuyers. Waiting to buy until things cool down is certainly an understandable choice, you need to consider the cost of waiting as well as the cost of renting.
About This Author

Boylan
Joined: December 27th, 2020