Preserve Nature Customized Furniture
Whenever we plan to move in to a new property or renovate our existing residences the first thing that comes to our mind is furniture. We all look forward to get new chic, contemporary, stylish and trending furniture in our dream houses, but get worried on the old existing ones. It is very difficult to discard the existing furniture and replace it with the new ones. Sustainable furniture that is stylish and modern is the need of the hour, thus we should focus at procuring reclaimed furniture that preserves nature and meet our demands.
Can Furniture be reclaimed or reused?
The best advantage of research, development and ecological conservation study is that it brings forth novel ideas and solutions that help reduce the carbon emission and preserve natural resources. Trees play a very important role in balancing the overall environment of the globe.
Excessive deforestation for commercial use downgraded the climate and environment to a great extent. With an attempt to save our trees, companies have now introduced reclaimed wood furniture that focuses on reusing the available and discarded wood, in preparing modern and trendy sustainable furniture. If people get serious towards restoration and waste management furniture can surely be reused in the best possible way.
What is Non-Toxic Furniture?
Making furniture is a craft. It involves designing, creativity and execution. Though we can use machines, yet the personal touch added to the frame and finish of any furniture piece is what makes it marvelous.
When the makes are determined to contribute something to the world and not just aim at achieving higher profits, they insist on constant innovation and solutions that prevent the use of hazardous chemicals and toxins. The trend of non-toxic furniture thus got in vogue as customers have started demanding 'safe furniture'. Non –toxic chairs, bed frames, tables pave way for healthy lifestyle. The furniture is made up of zero VOC eco wood and chemical free natural ingredients. Best reclaimed wood furniture is thus 100% natural and environment protectionist.
How can Reclaimed Furniture be customized?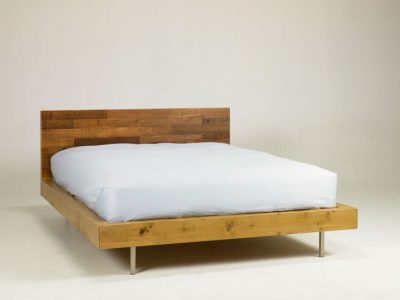 It is a very obvious question and shall surely hit everyone, that how can furniture be made from discarded or used wood? Everyone wants to have furniture according to the specific measurements of the interiors of their homes and offices. If available wood is of a particular size it is very difficult to alter. But it's the craftsmen skill of workers at Urban Woods that make conscious effort to restore the wood and make best reclaimed furniture.
If you are interested to buy sustainable and reclaimed furniture you should surely get in touch with Urban Woods at Los Angeles. It's an American furniture maker that makes eco-friendly masterpieces in furniture and also helps the society in getting job and livelihood. A company that has a purpose, contribute in sustaining America's forests, spreading awareness of using eco-friendly products, Urban Woods is certainly one of the best reclaimed furniture maker. Contact them today and get all your queries solved.
Article Directory /



Arts, Business, Computers, Finance, Games, Health, Home, Internet, News, Other, Reference, Shopping, Society, Sports