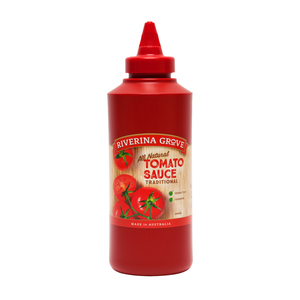 The Importance Of Buying Gluten-Free Sauces
There are many Australians who have switched from traditional BBQ and tomato sauce to a variety of alternative gluten-free sauces. This can be due to suffering from gluten intolerance, wanting to reduce their overall carbon footprint on the environment or suffering from coeliac disease. But why is gluten so bad and why is it so important to avoid it?
The damaging effects of gluten
The term 'gluten' refers to a group of proteins derived from wheat. If someone who suffers from coeliac disease, gluten intolerance or gluten sensitivity consumes a food product that contains gluten, the effects can be devastating.
If one of these people consumes as little as 50 milligrams of gluten, it can cause a variety of issues including seriously damaging the lining of their small intestine. This happens because the body's immune system reacts to the gluten and sees it as a threat, trying to attack it. Apart from interrupting the natural process of absorbing nutrients, this also causes a variety of health problems such as infertility, seizures, nerve damage and osteoporosis.
How to identify coeliac disease
Officially classified as an autoimmune disease, celiac disease happens when the body mistakenly sees gluten as a threat to the body. The immune system will then attack the gluten proteins trying to destroy them. This results in symptoms that are more devastating than symptoms of gluten sensitivity and gluten intolerance.
Sufferers will typically experience sharp stomach pains, skin rashes, anaemia, diarrhoea, bloating, weight loss, prolonged bouts of depression and constant tiredness. Moreover, many people can suffer from coeliac disease and not even experience any digestive symptoms. However, they will most likely experience depression, anaemia and increased fatigue.
How to identify gluten sensitivity and gluten intolerance
Even though someone suffering from gluten sensitivity or gluten intolerance won't experience such severe symptoms as someone suffering from coeliac disease, consuming gluten will still have negative consequences for them. These symptoms can include experiencing severe stomach pain, bloating, eczema and constant tiredness.
Why buy from online gluten-free food suppliers?
A wider selection of products
Finding a particular food item that is gluten-free can be difficult in your local supermarket. They might not stock the full range of a particular item or it could just not be in stock. However, when you shop online with a gluten-free food supplier, you have access to their entire product range.
Rather than spent a large amount of time shopping at a supermarket, buying from an online gluten-free food supplier allows you to simply browse their website from the comfort of your own home. Apart from enjoying their full range of products, all your items are delivered to your door!
Ever forgot the name of a particular brand or product you really enjoyed? Ever forgot something on your shopping list once returning home? With shopping online, those days are long gone. Shopping online gives you access to your previous history so you'll never forget the name of a delicious product again. You can also shop according to your previous shopping list, ensuring nothing is ever forgotten again!
Whether it's gluten-free sauces, pasta, pasta sauce, cooking oils or more, search online for a gluten-free foods supplier and start benefiting today!
Article Directory /



Arts, Business, Computers, Finance, Games, Health, Home, Internet, News, Other, Reference, Shopping, Society, Sports