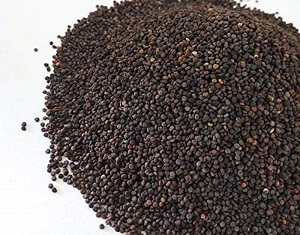 Organic JAKHIYA (Black Jakhiya Seeds) - Pahadi Lala
Pahadi Jakhiya or Cleome viscose is actually a seed, grown between crops. These seeds are small, dark brown or black in color.
Pahadi Jakhiya from Uttarakhand is used for tempering all types of pahadi cuisines.
Jakhiya can be preferers over cumin and mustard seed for tempering.
It provides an exotic taste to the meal and maintains the authenticity of Gharwali Cuisine.
The Indo-Mongoloid Bhotia (Pahadi Lala ) tribe of Garhwal has traditionally collected their spices from high alpine zone riches and arid temperate forests in areas ranging from 600 m to 1,600 m altitude.


Another name of Jakhiya wild mustard or dog mustard.
Botanical name of jakhiya is: Cleome viscosa
Earlier Jakhiya is cultivated in Uttarakhand only for domestic use and not for commercial purpose but today most of the people accross the world are consuming jakhiya because of its benifits and exotic flavour.
The most temptating ,method of consuming Jakhiya seeds is tempering them with oil or ghee, this makes them more crispy, adds an exotic flavor and texture to the dish.


Jakhiya has digestive properties, anti-diarrhoeal, analgesic properties, antiseptic properties, properties.
Jakhiya leaves is used for preventing skin infection, fever, arthritis, and headache.
Jakhiya needs Moderate climate and limited rainfall i.e. neither too much nor too little to grow.
These climatic conditions are very important for the Jakhiya plant can grow and survive.
Jakhiya plant is more alike mustard plant hence from distance it is quite difficult to recognize whether it is jakhiya plant or mustrad plant.
Jakhiya is beneficial because it contains :-
zinc 1.995 mg,
fiber 7.61 %,
iron 30.10mg,
carbohydrate 53.19 %,
starch 3.9 mg,
protein 29 %,
fat 0.50 %,
vitamin E 0.0328 mg,
calcium 1624.2 mg,
Magnesium 1444.3 mg,
potassium 145.35 mg,
vitamin C 0.216 mg,
sodium 59.85 mg.

The extracted oil from jakhiya seeds has medicinal properties.
-Fresh oil from jakhiya seeds is used for treating infantile convulsions mental disorders.
-Leaves of Cleome viscosa/ Jakhiya are useful in healing wounds and ulcers.
-Jakhiya helps in curing malarial fevers, ulcers .
-Jakhiya also helps in curing skin diseases, blood diseases, fevers due to indigestion
and uterine complaints,leprosy.
-Jakhiya aslo cures earache, headache and more.
The recipes with Jakhiya are majorly Aloo Ke Ghutke, Hara Saag,Dal Tempering, Thichwa Aloo, Pahadi Dal,etc.
Jakhiya is also can be added to pasta as well as south Indian dishes like Smabhar, upma too.
The most temptating dish among all is aloo jakhiya and also most liked dish of Uttarakhand.
Why to order from Pahadi Lala?
1-We Pahadi Lala provides you pure and Organic product at the reasonable price.
2-We assure you that the product from Pahadi lala is 100% organic, Authentic and fresh.
For your order visit us on - Pahadi Jakhiya- Pahadi Lala
For more information visit us on-www.pahadilala.com
Article Directory /



Arts, Business, Computers, Finance, Games, Health, Home, Internet, News, Other, Reference, Shopping, Society, Sports