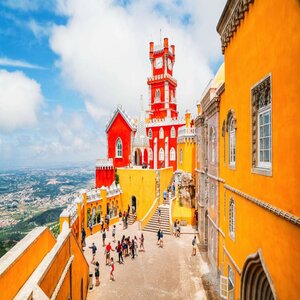 Top Places you Must Visit in Portugal
Portugal is a favorite destination for many travelers, especially in recent years. We are not surprised that it is on the wave's crest: the landscapes are magnificent, the climate pleasant all year round, the excellent cuisine and cheap prices. The country isn't even that big so that you can visit virtually all points of interest from north to south with a two-week trip. Do you want to visit Portugal and look for a complete list of what to see in this incredible country? Well, stop looking. You have reached the right place. Explore the top places you must visit in Portugal with the list that we have curated for you.
Lisbon
Let's start from the capital by citing one of the most famous Portuguese poets, Pessoa, who wrote about the city: "for me, there are no flowers that can stand comparison with the variety of colors that Lisbon assumes in the sunlight." There are probably no better words to define Lisbon's beauty, a seaside city that has a unique charm in the world.
The city is all up and down because it stands on seven hills - exactly like Rome - overlooking the Tagus River's estuary. Several neighborhoods are worth a visit: Castelo, Alfama, Bairro Alto, Chiado, Belém, all of which tell a part of the history of the city. You may make your flight bookings using Southwest Airlines Booking options for the best deals.
Sintra, Cabo da Roca, Cascais
This area is perfect for long and short itineraries as it is only an hour by train from Lisbon. We are in the Sintra-Cascais Natural Park that you can quickly get around in one day, even if only using public transport. Of course, if you have more time, you can stop one day in Cascais and one day in Sintra to visit all the points of interest without too much rush.
Port
Porto (or Oporto as it is called in Portuguese) is considered the north of Portugal's capital. It is very reminiscent of its sister Lisbon: Porto also rises on the hills, and the roads are continuous ups and downs - if the climbs are not a problem, you can visit it on foot. Divided by the Douro River, which contributes to its charm, you will immediately realize that Porto is perfect for photography lovers. Every corner always seems to be posing and ready for a stolen shot.
Algarve
If you plan to visit Portugal for a ten-day trip, you may explore Lisbon in three days and then head south to the magnificent Algarve area. You will not regret your decision. This region has incredible beaches and cliffs, almost reminiscent of the Big Sur coast in distant California. On the other hand, with 800 kilometers of coastline, it couldn't be otherwise! Here are many seaside resorts, but the main ones are Faro and Olhao for the east, Albufeira and Portimao for the central area, and Lagos and Sagres for the west. It is among the top places you must visit in Portugal.
However, in the Lagos area, do not miss Ponta de Piedade: cliffs overlooking the sea and a myriad of caves and inlets among the rocks make this place unique in the world. The whole coast here deserves thanks to the many beaches - many are small, so if you want to secure a spot to lie in the sun, come early in the morning! Do not miss the opportunity to go on a SUP or kayak excursion - at sunset because it is very suggestive, at dawn to live the experience in total peace and, if luck is on your side, even see some dolphins!
Azores
We move from the continent and go offshore: the Azores are called "pearls of the Atlantic ", and not by chance! These nine almost always forgotten islands are a real natural paradise and are slowly becoming a destination frequented by many travelers - especially those who love trekking and being outdoors. If you have two weeks, choose at least three islands to visit - each island has very different characteristics from the others, so all are worth a visit.
Alentejo
Alentejo is a region of Portugal that practically includes the area between Lisbon and the Algarve. It is not a destination that one immediately thinks of when it comes to Portugal. However, it still deserves to be mentioned, mainly because it is one of the country's most authentic areas. Here you can discover the most folkloric traditions of Portugal and its historical heritage.
So what are you waiting for? Make your Southwest Airlines Book a Flight today and have the best vacation of your lifetime in Portugal!
See More: Southwest Airlines Manage Booking
Southwest Airlines Official site
Article Directory /



Arts, Business, Computers, Finance, Games, Health, Home, Internet, News, Other, Reference, Shopping, Society, Sports