Website Review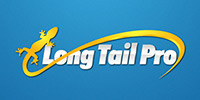 Long Tail Pro is a software for keyword research which was developed by Spencer Haws. It is basically an Adobe Air desktop application which makes use of Google Keyword Tools so that users can produce thousands of distinctive keywords in a matter of few minutes based on either one or multiple root keywords. The origin of this software can be traced back to the necessity to find a solution to avoid investing innumerable hours in searching low competition keywords. The website provides rich information about its features, pricing plans and even offers a 7-day free trial.
One can use Long Tail Pro for its following features:
Scoring Keyword Competitiveness - You can use Long Tail Pro's Keyword Competitiveness score for determining the effort of ranking varied keywords in top SEO results
Custom Difficulty Targets - Users can add their domain to project to explore what degree of keyword difficulty they must be targeting with their different websites so that search could be more focused and accurate.
Determine Metrics - It is easy to view metrics for determining domain strength, indexed URLs, referring domains to domain and page, site age and number of links, and page strength.
Measure Keyword Profitability - You can use Long Tail Pro's brand-new feature i.e. Rank Value to calculate a keyword's profitability.
Sorting and Tracking - The website makes it a cake walk to sort niches by varied sets of keywords and track down your favorites so that they could be revisited.
Export Outcomes - Users can export keyword metrics data, top 10 SEO results, competition data and lists of keywords.
Realtime filtering - Long Tail Pro allows filtering keyword results through keyword competitiveness, number of words, ad competition, local searches and CPC.
AdWords Data - You can feed a list of keywords and obtain data on number of words, monthly searches, CPC and competition.
As you have read, the website makes it very simple to locate keywords with high search volumes and low competition, particularly the ones having commercial value. It is quite easy to use and you would end up saving considerable time using this tool. One can always opt for the 10-day free trial to check out all the nuances of Long Tail Pro as there is nothing to lose. It is a very affordable solution, however, you must purchase it with the access to its keyword competition metric because this is biggest USP of the tool.
Review Directory /



Arts, Business, Computers, Finance, Games, Health, Home, Internet, News, Other, Reference, Shopping, Society, Sports