Website Review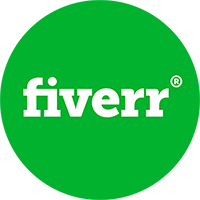 The freelancing community has been on a steady rise over the past few years, and there's no doubt that we have become a force to be reckoned with. A great alternative to the institutional, traditional and ever repetitive 9 to 5, working from the comfort of...wherever there is WiFi is a very attractive way to work. The rise of telecommuting jobs has no doubt increased the number of people in the workforce, as it is now possible to choose when, where and how much to work.
Working off of a streamlined platform that has thousands of jobs posted by just as many clients is a great way to save time and build credibility as a freelancer. There are lots of sites for that, and they have no doubt been a main component in the success of the freelance nation.
But then there is fiverr.
Fiverr attacks freelancing on a whole different level. Clients come to this site to scope out talent offered from all walks of life and skill sets (there's over 100 categories). The cost, as the name suggests, starts at a modest , which makes hiring help a possibility for small startups or individuals. A business can log in and choose from thousands of skilled workers, offering everything from music and voice talent to writers and web analysts.
The website layout is simple to navigate, and boasts a sampling of categories, a full Q & A section, lots of happy buyer stories, and very easy to follow steps for both purchasing work and offering it to clients. The fiverr platform can claim twenty five million completed gigs, and aims to make safety and promised payments tip top priorities. It seems as though they intend to be known as the edgy, fun loving second cousin of work; a short video on the home page shouts at the audience to get out and go against the grain, do things on your own terms, and kick out corporate America. X out of the video and the rest of the site is spattered with hip and pretty entrepreneurs and a very modern layout.
Eye catching for sure. Targeting a millennial audience, absolutely. But I would have to say the most attractive components to fiverr are the range of services and prices offered on their three tier system, and the history of jobs well done, and always with prompt payment. Anyone can easily jump on fiverr and get a great creative mind to lighten the workload.
Review Directory /



Arts, Business, Computers, Finance, Games, Health, Home, Internet, News, Other, Reference, Shopping, Society, Sports