Website Review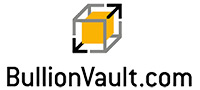 The history of money in America is a very interesting one. Our currency fluctuates in value with changes in government policies and the ebb and flow of the stock market. Dollars and coins used to be backed by precious metals, using the gold standard to determine the worth of our money. The government allowed the exchange of monies for gold until 1971, when the US Shifted to a fiat currency, believing it to be more stable over time. Fiat currencies are backed by the governments that issue them, as opposed to being backed by a commodity. Opinions differ on which option makes more sense, but for those who see imperfections in our ruling officials, or corruption in the banking system, owning something of great worth that can be traded in times of difficulty when the seal of the federal reserve just won't cut it is worth the risk.
Bullionvault.com claims to be the # 1 website company for clients all over the world to buy and sell precious metals. The company started in 2005 with just gold bullion cubes, but has added silver and platinum to the mix. With over 65,000 active customers and 37 tons of gold, it looks like a very secure and reliable company to trust with a hefty savings.
The site features a live order board which lists the best offers to buy and sell from all of the major trading locations ( Toronto, Zurich, London, Singapore, and New York), as well as the option to sign up for price alerts. A daily audit is available to view as well as an up to date feed featuring news stories on both the company and precious metals trades. Bullionvault.com is a savvy company with an open door policy - they lay all personal information in plain site and urge potential clients to ask questions and get informed about their purchase. The company realizes it comes across many skeptics, and takes the challenge head on by providing abundant information and statistics proving the case for gold vs. the almighty dollar. The site is brimming with links to helpful hints and histories of the gold market past and present. If a person or business is looking to break into the gold market, this is the place to start; a five star rating and a slew of reviews all containing the word "excellent", a promise to be free from the risks of banking failures and a simple approach to personal wealth are all sound reasons to try something new.
Review Directory /



Arts, Business, Computers, Finance, Games, Health, Home, Internet, News, Other, Reference, Shopping, Society, Sports