Website Review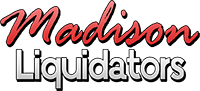 Madison Liquidators is an office furniture and decommissioning company that helps business to liquidate assets in the process of moving or bankruptcy. During a liquidation, Madison Liquidators will come to an agreement with companies who have assets that need to be liquidated and make those assets available for purchase to the public through an online marketplace and warehouses which customers can visit in person.
Advanced in aiding and assisting companies that are in need, Madison Liquidators is highly proficient in helping businesses relocate and assisting them to setup a working office environment in a new liquidation and seamlessly decommission the old environment when it is entirely vacated.
Popular products Madison Liquidators carries includes:
Desks
Collaboration Workstations
Desk Pods
Cubicles
Executive Desks
Reception Desks
Home Office Desks
Storage
Vertical Filing Cabinets
Lateral Filing Cabinets
Storage Cabinets
Wardrobes
Commercial Bookcases
Credenzas
Tables
Conference Tables
Meeting Tables
Training Tables
Flip-Top Tables
Coffee Tables
End & Side Tables
Chairs
Office Chairs
Guest Chairs
Heavy Duty Office Chairs
Ergonomic Chairs
Stools
Stacking Chairs
Nesting Chairs
And so much more!
This just scratches the surface of the products that Madison Liquidators can affordably offer to your business. All new furniture is discounted up to 35% off list prices and in some cases over 75% off gently used but like new desks.
Madison Liquidators provides the most affordable office furniture solutions in Madison Wisconsin and surrounding communities and is dedicated to helping businesses in their community succeed.
The business interior design services that Madison Liquidators has to offer are second to none. They focus squarely on the client needs and how they can help to create affordable yet productive work environments for their customers. Managerial office spaces come equipped with high end desk systems that are not only affordable but offer ample storage to help keep a work space clean.
Not only that, packages they offer focus on ergonomics and work to improve staff and company morale with the installation of articulating monitor mounts and electronic height adjustable sit stand desks. Whether you are in the Madison area or anywhere in the lower 48 states, Madison Liquidators offers office furniture solutions nation-wide and provides no obligations floor plans, 3D renderings and estimates for a wide range of budgets.
Products
Services
Review Directory /



Arts, Business, Computers, Finance, Games, Health, Home, Internet, News, Other, Reference, Shopping, Society, Sports