Website Review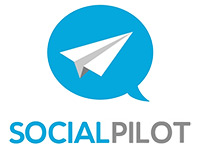 For the social media networking guru, here is a very welcome and helpful tool to make every post count, and marketing to new audiences easier than ever before. SocialPilot seems to already be a very popular service, with over 40,000 agencies and social media professionals leaving rave reviews and praise. Current users have called it ' Your one stop social media marketing platform', 'easy to set up' and an 'excellent value of money'. Everybody is online, but being an entrepreneur with positive ratings, high traffic social media accounts and the ability to easily evaluate positive and negative trends is the place SocialPilot strives for businesses and bloggers to be.
This service has a lot to offer, and seems capable of handling any business size or individual workload. There are four different plans to chose from, so the social media handling needs from novice to expert are covered. Here's a brief overview:
Starter - This one is for the beginner trying to decide on social media necessities. For use on up to three accounts, it provides content suggestions, post sharing, and client management which allows for easy client additions.
Basic - For bloggers and individuals already somewhat aware of what they need out of profiles and followers. The addition of social media analytics comes with this membership, allowing the user access to audience demographics, and tips on what and when to post for maximum influence.
Growth Hacker - This is SocialPilots recommended service, as it boasts the ability to post and share over 200 times per day, and includes the help of 5 team members who can help get your links and posts on 100 social profiles, saving time and expanding audience.
Business - Online sellers and businesses couldn't ask for much more than this packaged deal. Clever use of social media advertisement configuration, special tools for targeted campaigns, 20 team members ready to do the dirty work, and calendars to help plan daily, weekly and monthly strategies leave nothing to chance.
It seems as though SocialPilot has the whole social media marketing thing figured out. And as confusing as all of this can be to a new online presence or startup, it's nice to see a company willing to walk an individual through becoming relevant, and offering services tailored to specific needs, from having one subscriber all the way to corporate retail giants.
Review Directory /



Arts, Business, Computers, Finance, Games, Health, Home, Internet, News, Other, Reference, Shopping, Society, Sports