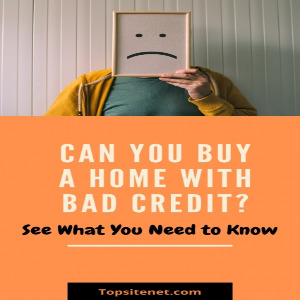 How to Buy a House With Bad Credit
Buying a Home With Bad Credit
Are you wondering what it will take to buy a house when you have a bad credit score? A good credit score is vital in securing your best possible loan. Life gets in the way, and sometimes you may find that your credit score isn't what you would like it to be. It doesn't take a lot for this to happen, but once it does, don't despair; you can still work around it.
One of the most vital financial aspects of our life is having a good credit score. It plays a dramatic role when it comes to buying a house, a car, and even the credit cards you apply for. Having a good credit score will put you in a position to get the best rates and terms for all of these kinds of loans.
Given your score has such a dramatic impact on these things, it makes sense to put in the time and effort to get the best credit score.
Let's take a look at what's considered a credit score you don't want to have and how you can improve your chances of purchasing a home.
What is a Bad Credit Score?
Having a credit score is something most of us have, and the score is calculated based on what is in your credit report. For example, your score will be based on:
Whether you pay your bills in a timely fashion.
How many credit accounts you have open and utilized.
How much your credit balances are each month.
Depending on the reporting agency, your score will be between 300-850. Translated, the score goes in grading from being excellent, very good, average, and below average. This helps a lender to determine the risk of lending to you. Any score of 580 or below is considered to be a bad credit score.
If you have applied for credit in the past, there will be a credit score about you. So the first thing to do when buying a house is to get a copy of your credit report. You can get your credit score once a year from the three major credit bureaus; Equifax, Experian, and Transunion.
If you want to get another credit report from one of the credit agencies, you may have to pay for it.
How to Buy a House With a Bad Credit Score
The question becomes, can you buy a house with a bad credit score? The answer is yes, but it is far more challenging. You can expect the following credit score requirements from lending entities:
For a conventional loan, your credit score will need to be at least 620.
For an FHA loan, you will need to have a credit score higher than 580.
For a VA loan, there is no minimum credit score; however, most lenders will require your score to be at least 620.
Once you get your credit score in writing, check to see if there are any mistaken entries and that your name and date of birth are correct. If anything is jumping out at you as incorrect, someone may have stolen your identity; unfortunately, it is becoming more common.
Some companies deal primarily with getting home loans for people with bad credit scores, so it is good to consult an expert in the area. There won't be any point in going to the bank as they won't be helpful. Having a bad credit score will reduce your buying power, so it is imperative to do what you can to improve it.
* Talk to the expert and get your options explained.
* If your score is around 580, many lenders will require at least a 10% deposit.
* If you manage to have a 20% deposit, you will increase your chances of getting a loan; high-risk lenders prefer 20%.
Other Ways to Get a Loan With A Bad Credit Score
Some companies do not use credit score ratings but have a real person assess the application, then the person decides.
Use FHA (Federal Housing Administration), used by many first time home buyers because of the low down payment requirements - only 3.5 percent.
Reduce your approval process by having a 20% deposit and keeping your borrowing cap under 80% to avoid private mortgage insurance.
Demonstrate that you have improved your financial situation, show evidence of regular savings.
Be prepared to initially pay a higher interest rate ( this won't last forever, after paying for two years, apply for a lower rate).
Ensure you are prepared to document any cash deposits as any lender will want to know your funds are legitimate.
Speak to your legal advisor about ways to cleanse your credit report.
Use a mortgage broker; they will present your case in the best light.
Your Credit Score Will Soon Be Good
Unless you work in finance, you probably won't know that there is no minimum credit score required to preclude you from getting a loan when you go to a lender. It is more up to the discretion of the lender and company they work for.
If you have a low overall rate of debt, a good job, and regular income, you will most likely be able to get a loan, as long as you have some kind of deposit.
If you are a first time home buyer, FHA is an excellent option to try to get a loan. Once you get the loan approved and have a house to move into, your main priority is to keep paying the loan on time and the full amount every month, and after a certain time, your credit rating will be repaired.
During this time, try not to incur any more debts, as getting your good credit rating back is essential. After five years, default infringements are removed from your credit score; when this happens, you can renegotiate a lower interest rate loan.
Final Thoughts on Achieving Good Credit Scores
While you are repairing your credit rating, don't make any further credit applications, as you want your good rating back as soon as possible. Bankruptcy and Personal Insolvency agreements remain on your file for seven years, and you want to avoid that scenario at all costs.
Doing everything possible to achieve a good credit score will be well worth your efforts whether you are buying a house or renting an apartment. The money you can save by having more favorable terms will be immeasurable.
Hopefully, you have found this guide to getting rid of your bad credit score and buying a home to be useful.