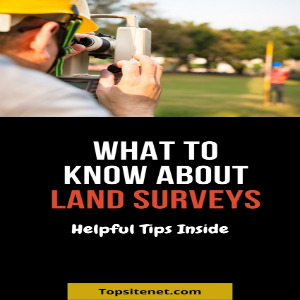 Things to Know About a Land Survey
What You Should Know About Property Surveys
Are you looking to get a land survey done for your property? In its simplest form, a land survey allows you to figure out the legal boundaries and features of a piece of property.
They are required by virtually all lenders who will grant a mortgage on a piece of property. This is the case whether someone is getting a land loan or they need a mortgage to purchase a house.
A land survey can also be helpful if you already own a property and want to answer some questions about the boundaries and how they relate to existing structures. You might also want to do an addition and need to verify whether it is possible according to local zoning laws.
Land surveys can be convenient if you've got a plot of land you want to build your dream home on. They will determine many things, including the best location for the house and any outbuildings. Property surveys will also determine other essential considerations, such as if there are wetlands and where they are located.
If there is no public sewer and a septic system is involved, a land survey will help with the placement of that as well. If you are getting construction loan financing, the lender will also want to ensure a survey is done on the property as well.
How Are Land Surveys Done?
If you want your property surveyed, you will hire a professional land surveyor. Using your home deed, surveyors will map out the dimensions of the property which you own. This could include a description of those measurements or simply a more visual representation of sorts.
Sometimes these things can use outdated landmarks such as trees, which may no longer be a part of the land when you look at it in the future. For this reason, the surveyor will also physically measure the land to keep things as accurate as possible.
There can be all types of tools used to measure your property. A GPS is used more and more, but traditional tools like an altimeter are still widely used to carry out this process.
Why should you get your land surveyed?
There can be a few reasons as to why you should look to get your land surveyed. Even if you're not looking to do renovations on the property right now, you might need these dimensions on hand in the future.
Boundary issues
It can be a common problem between neighbors to argue who owns what land between their properties; where things start and end.
Beyond trying to compromise and come up with some form of friendly agreement as to where these things occur, it can be a good idea to get your land surveyed so you can see legally where your land starts and ends.
Doing this will mean that both parties can resolve their issues fairly. Getting a land survey done becomes especially important when proposed structures hug a neighbors boundary line.
Finding Out The Plot Size and The Right Price
Finding out the size of a plot of land can be used to your advantage if you're buying a home since you'll be able to use these measurements as a negation tool if it turns out the land is much smaller than advertised.
Building a New Home
If you're looking to build a new home, you're going to need a land survey as a requirement, depending on which state you live in. You're also going to want a survey to be carried out so you can see the best place to put your property for structural purposes, as well as knowing where best to put things like drainage.
What you should be looking for in a land survey
A land survey is not just about measuring up a property and ensuring that it's on a plot of land where it's supposed to be. It is about locating any improvements such as other buildings, paving, and fences.
A good surveyor will have done the following:
Identify any building setbacks or restrictions on the property that could affect the use or future real estate developments.
Include a written explanation of the property, as this is helpful to fully understand what may be on the property, especially the little things which may be overlooked.
Determine if your home is floodplain or if there are wetlands that prevent you from improving or even building a home.
The Price of a Land Survey
Just like many things in real estate, whether you want someone to survey the inside of the property to outline any issues or you're looking for an interior designer, you should not skimp out on cost just to save a couple of dollars. Especially for something as important as getting your land surveyed.
Although the costs really are determined by the size of the property as well as its complexity, it's still important to make sure you're taking the time to choose the right surveyor for you and your property's needs.
In general, you should expect to pay about 0+ for a simple boundary marking and well over that if you're looking for a full property survey. A land survey can get expensive when it is a full blow tape survey.
Final Thoughts on Land Surveys
Land surveys play a valuable role whether you have bought a piece of land to build your dream home, are trying to add an addition, are looking to add a fence or some other kind of improvement. As a property owner, you should never take for granted the importance of completing a survey.
Hopefully, you have enjoyed this guide to land surveys.
Other Helpful Topsitenet Real Estate Articles
Use these additional resources to make great decisions when buying property.
Buying a house with bad credit - see what you need to know to improve your chances of being able to buy a home when you don't have the best credit in this insightful article. Follow these home buying tips and you will increase your chances.
Use Credit Karma to improve your finances - learn how Credit Karma can be immensely helpful when you need to improve your credit scores. Credit Karma will help you make the best credit decisions. It can be especially useful when you want to be a homeowner.